CRYSTAL CRUISES REVEALS DETAILS ON 2013 SCHEDULES, ITINERARIES
Back to All Cruise Industry News
Register for Cruise Ship Jobs Now!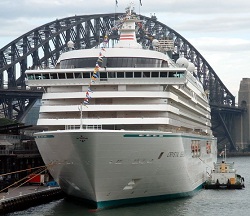 NEW YORK--Gregg Michel, president of Crystal Cruises, revealed to Travel Agent that the luxury cruise line is planning to unveil a new, innovative trip-length shedule rotation in 2013, as well as offer itineraries that are carefully timed to major world events and festivals. Michel spoke with Travel Agent at the Cruise Lines International Association (CLIA) Media Marketplace, held yesterday at the Manhattan Cruise Terminal.
The new trip rotation schedule involves sailings that take place on a seven-day/12-day/11-day/seven-day schedule, Michel explained, in order to better serve a wider range of luxury cruisers with more limited and/or flexible travel schedules.
"We're known pretty much as a 12-day cruise product," Michel said. "But in 2013, we want to offer a schedule that will involve a seven-day voyage, followed by voyages that last 12 days, 11 days and seven days. The initial seven-day departure would depart on a weekend; the 12-day departure leaves mid-week; the 11-day departure leaves mid-week; and the second seven-day departure departs again on a weekend."
Michel said that the new schedule structure will allow for cruisers to have more flexibility and would allow Crystal to appeal to a broader market of travelers. He also said that the ports visited in these itineraries would not be repeated.
For 2012, Michel also said that travel agents can expect to see more itineraries that feature overnights in major cities and destinations of interest, especially in prime embarkation and disembarkation ports. A new itinerary of note for 2012, Michel highlighted, was a new seven-day cruise along the St. Lawrence River in Eastern Canada.
Moreover, Michel said, the line is continuing to commit to new initiatives and promotions that enhance the onboard ship experience for its guests, as well as make it easier for travel agents to book their clients on its ships. Recently, the line launched a new Private Adventure option that allows passengers to book traditional group shore excursions for private parties of up to six guests. The line's Crystal Serenity also recently came out of a major drydock that included major upgrades to its stateroom and suite accommodations. The line has also placed great emphasis on its onboard dining options, recently teaming up with famed Taiwan-based Chinese dumpling specialists, Din Tai Fung, to offer authentic Chinese comfort cuisine on its ships. And, in spring 2012, Crystal is going all-inclusive with complimentary fine wines and premium spirits throughout the ship, open bar service in all lounges and pre-paid gratuities for housekeeping, bar and dining staff.
To promote sales going forward, Crystal Cruises also recently launched a fall fare sale that Michel and Crystal Cruises Vice President of Public Relations, Mimi Weisband, highlighted as a major selling point for travel agents.
"There are so many incredible deals and consumer incentives available," Weisband said. "Agents should be proactively reaching out to consumers and communicating these values to ther clients--now is a perfect opportunity. With our fall fare sale, we're much more affordable than what may be traditionally perceived of with a Crystal Cruises vacation."
Michel added, "There's a value message, a product message and a luxury message with Crystal Cruises. Agents can expect to hear more from us in the coming months."