COSTA FAVOLOSA: FIFTEENTH SHIP FOR COSTA CROCIERE
Back to All Cruise Industry News
Register for Cruise Ship Jobs Now!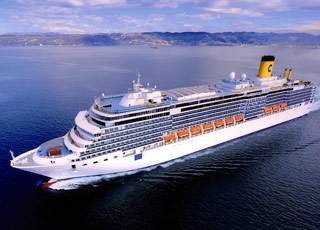 The black-tie naming ceremony for the new flagship of Costa Cruises, Italy's largest tourism group and Europe's largest cruise company, took place on Saturday, July 2, in the magnificent setting of the Piazza Unità d'Italia in Trieste and the presence of 2,000 guests..
The new ship's godmother was Italian actress Margareth Madè, best known for her starring role in the movie Baaria. In keeping with tradition, Ms Madè was invited by the ship's captain, Ignazio Giardina, to cut the ribbon and break a bottle of Aneri Prosecco wine on the bow of the new flagship. [Costa Favolosa in Trieste]
The 114,500-ton Costa Favolosa, fifteenth ship in the Costa fleet, can carry 3,800 passengers. And as an Italian-built ship and the largest ship under Italian flag she now sails the seas as a symbol of great Italian pride. The naming ceremony was incorporated into the official celebrations of the 150th anniversary of the Italian Unification.
The new ship will now spend the summer sailing out of Venice to Olympia, Bari, Izmir, Dubrovnik and Istanbul. Among other things, this 1,508-stateroom ship (594 with private balconies) has a 4D Cinema, a Grand Prix Simulator, Golf Simulator and PlayStation World Area.