COSTA CRUISES: THE BIGGEST IN EUROPE
Back to All Cruise Industry News
Register for Cruise Ship Jobs Now!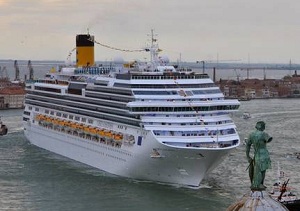 With the impending christening of the 114,500-ton 3,800-guest Costa Favolosa in Trieste next week, an event that is being tied in to the 150th Anniversary of Italian unification, it is worth having a look at the Costa Cruises Group. With its Aida and Iberocruceros branches in Spain and Germany it is now by far the largest cruise operator in Europe. We also take a look at why some people in Charleston have decided to sue Carnival Cruise Lines for basing a ship in their port. And the European Cruise Council confirmed last week that the European cruise market numbered 5.5 million in 2012, accounting for 30% of the global market.
Figures released by Costa Crociere SpA of Genoa confirmed its position as Europe's largest cruise operator, with 2.15 million passengers carried by its Costa, Aida and Iberocruceros brands last year. The overall passenger increase was 18% over 2009, with Costa group now operating twenty-six ships, fourteen under the Costa banner, eight with Aida and four with Iberocruceros, with another four for delivery by 2013, two each for Costa and Aida. The delivery and naming of the Costa Favolosa at Trieste on July 2 will bring Costa to fifteen ships and the Costa Group to twenty-seven. [Costa Favolosa]
The group's consolidated revenues rose by around 12% in financial year 2010, reaching just under 3 billion euros. Costa Crociere is now one of Italy's top ten most profitable companies and ranks 49th in terms of revenues in a 2010 survey of more than 3,700 Italian businesses that generated revenue of at least 50 million euros the previous year.
Costa has also recently announced its cruise itineraries for autumn 2011 and spring 2012. Its new programs will include new mini-cruises, for those who would like to try Costa for the first time, new and exclusive itineraries in the Caribbean, new routes for South America and a new extended cruise from South America to China. [Costa Allegra in Rio de Janeiro]
For those who would like to try Costa without going for a full week, in the spring and autumn of 2012 the Costa Atlantica will offer a series of new 3-4-5 night mini-cruises from Savona to Barcelona, Ibiza or Palma, Ajaccio and Marseille, with embarkations available at any of Savona, Barcelona or Marseille.
On the other side of the Atlantic, the Costa Mediterranea will offer a brand-new Caribbean itinerary from December through March. A new 7-night cruise from Guadeloupe will alternate on two itineraries that include Aruba, Curacao, Costa's private island (Catalina), Isla Margarita, St Lucia, St Maarten, Antigua, Dominica, Barbados and Antigua.
Costa will also enhance its South America program when the Costa Victoria is based in Santos between December and March for 9-night cruises calling at Rio de Janeiro, Buenos Aires, Montevideo, Porto Belo and Ilhabela.
The Costa Serena will also offer new Canaries and Madeira programs. [Costa Serena]
From November through March, she will offer 11-night cruises from Savona to the Canaries and Madeira, as well as 14-night cruises to the Canaries and Madeira that will include calls in Spain and Morocco. Between November and March, the Costa Serena will also offer 11-night cruises to Greece, Turkey and Israel, leaving Savona and calling at Katakolon, Ashdod, Haifa, Izmir, Piraeus and Civitavecchia.
In a special sailing to position the Costa Victoria from South America to Asia, she will depart Santos on March 7, 2012, on an exclusive 72-night cruise to Shanghai, with four different sectors being offered to the public. The first leg, from Santos to Savona, will be a 17-night crossing with calls at Rio de Janeiro, Salvador de Bahia, Recife, Cape Verde, the Canary Islands, Madeira, Lisbon, Gibraltar and Barcelona. The second leg, leaving Savona on March 24, 2012, will depart for Dubai on an 18-night cruise calling at Naples, Port Said, the Suez Canal, Sharm el Sheik, Safaga, Aqaba, Salalah and Muscat.
The third leg will commence on April 11, 2012, in Dubai on a 20-night cruise to Singapore that calling at Mumbai, Goa, Cochin, Malè, Colombo, Phuket and Port Kelang. And finally, the fourth leg to Shanghai will be a 17-night cruise with calls at Bangkok, Ho Chi Min City, Da Nang, Halong Bay, Hainan and Hong Kong. Thereafter, from May 18, the Costa Victoria will be based in Shanghai to offer a series of 4-5-6-7-night cruises for the growing Asian market. [Costa Victoria]
In the Indian Ocean, meanwhile, the Costa Allegra will again sail from Mauritius on 14-night Indian Ocean cruises from November to March, calling at the Seychelles, Madagascar and Reunion on a route offered only by Costa.
Starting in 2012, there will be a Costa ship positioned in the Red Sea year-round. From November to March, the Grand Voyager, be chartered from Spanish affiliate Iberocruceros, will offer 7-night Red Sea cruises with calls in Egypt, Israel and Jordan. Given characteristics that make her ideal for sailing the Red Sea, the ship will be operated by Costa Cruises with its own staff, and the service, atmosphere and style of a Costa cruise. Then from March until the end of 2012, Costa's own Costa Marina will take over the 7-night Red Sea itinerary.
In Europe, 8-night cruises on the Costa Magica out of Amsterdam will allow guests to visit six of Europe's top capital cities on one cruise: Paris, London, Amsterdam, Berlin, Copenhagen, Edinburgh and Oslo. This cruise will also be available for boarding in Dover, which has been abandoned by MSC Cruises in favour of Southampton. [Costa Magica in Harwich]
Meanwhile, after returning from her first world cruise, the Costa Deliziosa will offer 11-night cruises to the North Cape and the Baltic, departing from Amsterdam.
From Germany, the Costa Pacifica will offering a series of 10-to-16-night cruises from Kiel and Hamburg, to the North Cape, Iceland, Spitzbergen and the Baltic.
The Costa Luminosa from Amsterdam and the Costa Fortuna from Copenhagen will complete Costa's North European operations, with7-night summer cruises to the Norwegian fjords and the Baltic.
Meanwhile, the new flagship, Costa Favolosa, will operate 7-night cruises in the United Arab Emirates and Oman throughout the winter of 2011 and 2012.
In the Far East, the Costa Classica will leave Singapore on a 14-night itinerary, which can be broken down into two 7-night segments, sailing to Thailand and Malaysia. She will also operate 5-night cruises out of Hong Kong to Taiwan and Vietnam.
Back in the Caribbean, in addition to the new program by the Costa Mediterranea, the Costa Atlantica will operate a new 10-night itinerary from Miami, with calls at Grand Turk, Ocho Rios, Grand Cayman, Roatan, Cozumel and Nassau. And for the first time the Costa Luminosa will be positioned in the Caribbean to run 7-night cruises from Guadeloupe, calling at a different island each day. Caribbean guests will also be able to enjoy the line's private beach resort at Catalina in the Dominican Republic.
In South America, there will be four Costa ships operating next winter: Costa Pacifica, making her South American debut, Costa Magica, Costa Fortuna and Costa Victoria. Cruises will be offered from Santos, Rio de Janeiro and Buenos Aires to ports in Brazil, Uruguay and Argentina. [Costa Deliziosa]
And looking further ahead, on January 6, 2013, the Costa Deliziosa will set sail from Savona on a 100-night Round-the-World cruise, a westbound route embracing all five continents. Her 2012 cruise, by comparison, will be only 76 nights.
For the winter in the Mediterranean, the Costa Deliziosa will leave Savona in December on an 11-night cruise to the Canary Islands and three Mediterranean mini-cruises. The Costa Concordia will offer 7-night cruises from Savona to Marseilles, Barcelona, Palma, Tunis, Palermo and Civitavecchia. From February, the Costa Romantica will also be deployed on 11-night cruises to the Canary Islands.
In the summer of 2012 the two new ships, Costa Fascinosa and Costa Favolosa, will sail from Venice and Bari on 7-night cruises to Greek Islands and to Greece and Turkey, The Costa Fortuna will also operate week-long cruises out of Venice and Bari, in her case to the Greek Islands and Croatia. The Costa Romantica will meanwhile leave Venice on 11-night cruises to Egypt and Israel or the Black Sea. And the Costa Classica will operate 7-night cruises from Trieste and Ancona to the Greek Isles. [Rhodes"]
From Savona, the Costa Serena will offer a 7-night itinerary to Naples, Catania, Tunis, Barcelona and Marseille and Costa Concordia will offer a 7-night itinerary to Barcelona, Palma, Tunis, Palermo and Civitavecchia. The Costa Mediterranea, meanwhile, will offer 11-to-13-night cruises to the Canary Islands and to the Black Sea, or Egypt and Israel. Finally, from July to September, the Costa Atlantica will operate 7-night summer cruises from Savona to Civitavecchia, Naples, Tunis, Valencia and Marseilles.
In the autumn of 2012, Costa Deliziosa will be deployed on 11-night cruises from Savona to the Canary Islands, Costa Luminosa on 9-night cruises to Lisbon and Casablanca; Costa Pacifica on 11-night cruises to Egypt, Greece, Israel and Turkey and Costa Fortuna 10-night cruises to Egypt, Greece and Turkey. During the autumn and spring the Costa Magica will also offer a special 10-night itinerary to Marseilles, Livorno, Palermo, Athens, Izmir, Rhodes and Malta.
Thirty years ago, in 1981, after surpassing the Soviets with a mix of ten owned and chartered ships, Amerikanis, Carla C, Danae, Daphne, Enrico C, Eugenio C, Federico C, Flavia and World Renaissance, and the Costa Riviera about to come on line, Costa claimed to operate the world's largest cruise fleet. [Eugenio C] Now, as the largest cruise operator in Europe, there is no doubt that, with fifteen ships to its name and twenty-seven under its control, Costa has come a long way, and has picked up a significant role in the development of cruising on a world scale.