Compagnie du Ponant Orders a New Boreal-Class Cruise Ship


Back to All Cruise Industry News




Register for Cruise Ship Jobs Now!



Fincantieri and the French cruise line Compagnie du Ponant have signed a contract for the construction of a fourth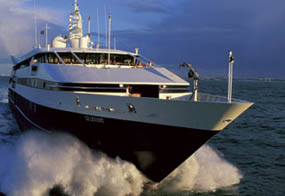 Boreal-class cruise ship.

The new ship will be the twin to Le Soleal, which launched in June and was a sister ship to L'Austral and Le Boreal.

Like the previous three ships, the new ship will also be assigned to Ancona shipyard and is scheduled for delivery in the spring of 2015.

It will fly the French flag and will be approximately 11,000 gross tons, about 142 metres long, 18 metres wide and will have a cruise speed of 16 knots. She can accommodate more than 264 passengers in 132 cabins and suites, all with a sea view, 95 percent of which have a private balcony, and a crew of 140.

She will be built using the very latest in environmentally friendly technology, while her small size means that she will be able to reach ports and destinations inaccessible to larger vessels. Indeed this ship will cruise in Alaska during the summer, and in Australia and New Zealand during the winter.

Her interior will be designed on a "human scale" with the utmost attention to detail, according to Fincantieri.

Commenting on the new order, Fincantieri CEO Giuseppe Bono said: "This new order marks a firm consolidation of our relationship with this prestigious cruise operator and allows us to secure a strong foothold globally in a very promising business segment.This encouraging achievement, coming shortly after other new orders, has been realized in a still difficult market and has been possible also thanks to the greater cohesion achieved within the company that bodes well for the necessary improvement in efficiency and competitiveness".

"For Compagnie du Ponant this order is another step towards the future that validates an effective business model," stresses Compagnie du Ponant CEO Jean-Emmanuel Sauvée.

"It strengthens our partnership with Fincantieri, which has been entrusted with building this fourth sistership after the excellent work achieved on the previous three yachts".