CARNIVAL, HOLLAND AMERICA, PRINCESS CRUISES TO INSTITUTE MORE RESTRICTIVE SMOKING POLICIES
Back to All Cruise Industry News
Register for Cruise Ship Jobs Now!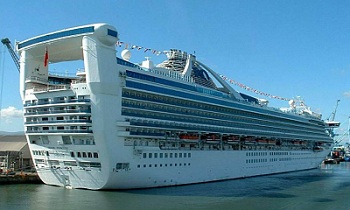 Citing changing passenger preferences, Carnival Cruise Lines, Holland America and Princess Cruises have announced more restrictive smoking policies.
Effective January 15, Princess will no longer allow smoking in cabins and balconies across its fleet.
Princess says it will continue to provide areas for smokers. Smoking will continue to be allowed in the Churchill's cigar lounge, a section of the disco and casino and a portion of the open decks.
Also effective January 15, Holland America's new smoking policy designates cabins as non-smoking areas. Smoking will still be, however, permitted on cabin balconies.
For those who wish to smoke, there will continue to be designated areas available for this both inside and on outside decks.
Carnival's policy changes will be rolled out in two steps.
Step 1: Effective today (June 15), cigarette smoking in public venues will only be permitted in Carnival's dance clubs as well as in designated areas within the casino and casino bar. Smoking (including cigars) will be permitted in designated exterior open deck areas (starboard side) of all ships. Additionally, smoking will also be allowed in the jazz clubs of the following ships: Carnival Destiny, Carnival Triumph, Carnival Victory, Carnival Spirit, Carnival Pride, Carnival Legend, Carnival Miracle, Carnival Conquest, Carnival Glory, Carnival Valor, Carnival Liberty, Carnival Freedom, and Carnival Splendor.
Step 2: Effective December 1, smoking will be prohibited in all guest staterooms. Those guests in balcony accommodations will be permitted to smoke cigarettes and cigars outside on the balcony. Spa staterooms -- currently featured on Carnival Splendor, Carnival Dream and Carnival Magic -- will continue to remain entirely smoke-free, including on the balconies.
All three lines cited consumer studies revealing that only a small minority of passengers smoke. Reps added that a $250 cleaning fee would be the penalty for breaking the rules.
Other lines that ban smoking in cabins and balconies include Crystal Cruises, MSC Cruises and Oceania Cruises.