P&O Cruises Lays Keel For Its New 141.000 tons Flagship
Back to All Cruise Industry News
Register for Cruise Ship Jobs Now!
Last Wednesday a ceremony was held at the Monfalcone yard of Fincantieri to mark the keel laying of the largest cruise ship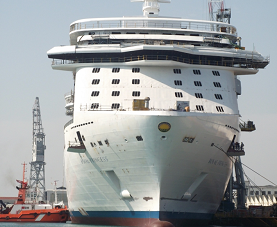 ever built for the UK market. The 141,000-ton 3,611-berth cruise ship is scheduled to enter service in March 2015.
However, Royal Caribbean's 154,407-ton 3,634-berth Independence of the Seas, which has been trading from Southampton since 2010, will still outrank her in both tonnage terms and in number of berths. The new P&O flagship will have a passenger space ratio of 39 gross tons per passenger.
Based on the design of Princess Cruises' Royal Princess, which is to be christened in Southampton next month, and her sister ship Regal Princess, the new P&O ship will bring an unprecedented number of passenger amenities to the P&O Cruises brand.
She will combine the classic features of ships such as the 1,866-berth Aurora and 1,870-berth Oriana with the wide choices of the 3,096-berth Azura and 3,092-berth Ventura, as well as a number of concepts yet to be announced. Under the traditional P&O brand, the new flagship will be designed to attract new cruisers as well as repeat passengers.
The 2,064-berth Arcadia of 2005, originally ordered by Cunard Line, was the first ship to be built by Fincantieri for P&O, followed by the Ventura in 2008 and the Azura in 2010.
These were not the first P&O cruise ships to be built in Italy however, as its first dedicated cruise ship, the 736-berth Spirit of London, a ship that has originally been ordered by Norwegian Caribbean Line, had been completed for P&O in Italy back in 1972.
No name has yet been announced for the new flagship, nor have any details been released concerning her internal layout, other than that British hotel design company Richmond will oversee the ship's interiors to reflect various aspects of P&O's history.