MSC To Double Its Ex-UK Fleet Next September
Back to All Cruise Industry News
Register for Cruise Ship Jobs Now!
MSC Cruises will temporarily double its ex-UK fleet next year when it bases its MSC Magnifica in Southampton for a short series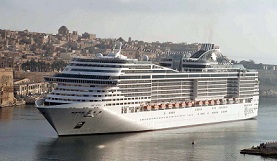 of cruises from September 2014. The 86,600-ton, 2,550-passenger Magnifica will join the 58,600-ton, 1,756-passenger UK-based MSC Opera.
The Magnifica will offer four seven-night, round-trip cruises departing from Southampton and calling at Zeebrugge, Amsterdam, Hamburg, and Le Havre, with fares starting at £429 per person including free parking or coach transfer to Southampton.
MSC's announcement comes as it confirms Carnival UK's former head of sales Giles Hawke will be joining MSC line this November as managing director UK and Ireland.