Princess Cruises Assistant Cruise Director Interview


Back to All Articles and Interviews




Register for Cruise Ship Jobs Now!



Princess Cruises Assistant Cruise Director Interview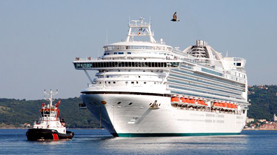 An interview with Jason Groves – Assistant Cruise Director, Princess Cruises.


- What are your responsibilities as Assistant Cruise Director? What is a typical day at work?


- A busy one. We usually start around 8:30am when we prepare for the majority of our activities for the day. Our first interaction with passengers could be anything from a morning trivia game to a line dancing class or even hosting a martini or fruit and vegetable carving demonstration.

Depending on the scheduled events there is always the flexibility to do something different every morning. All Cruise Staff members are "Jacks of all trades" when it comes to entertaining. Not only do we host but we are also the Social staff onboard. We interact with the passengers on a daily basis, talk with them, laugh with them, dance and even sing with them.

Our events and activities stretch through an entire day into the evening. Where we then could be doing anything from hosting special get togethers or meetings to dressing up in costumes and presenting one of our many themed nights (i.e. 50's Sock Hop, Country and Western Night, 70's Disco and so on).

In all honesty, there is no way I could list all the events we are responsible for – you just wouldn't have room on this website. Trust me.


- What was your own particular career path?


- Back in Vancouver, B.C. Canada where I'm from I was an actor, a writer, a musician and D.J. – I had always been in the entertainment business since I was fourteen.

Now, typically with any starving artist you also needed a day job, so I worked for the Tourism board of British Columbia. I thought I would combine both entertainment and hospitality together and so I applied for a job working for Princess Cruises.

I was hired as an Assistant Cruise Director/Disc Jockey. It was a fairly new position where during the afternoon you would host events and activities and then in the evening would D.J. one of the many nightclubs on board. After 2 years in that position (and 20 years as a D.J.) I decided it was time to hang up my headphones and become just a straight up ACD (Assistant Cruise Director).


- What is your work schedule now, including time on and time off?


- Our busiest days onboard are Turnaround days (the first day of the cruise) and sea days. Again we start quite early in the morning and work late into the evening.

On port days it's a little different. Two Cruise Staff members will stay onboard and host activities for those passengers that don't get off the ship and the other Cruise Staff have the daytime off. We'll usually go onshore and go shopping or sightseeing.

Once we leave port we are back to work again doing what we do best, having fun. So, we work 7 days a week – 6 months straight and then go home on vacation for around 2 months before our next contract.


- Have you got any advice to those thinking of working on a ship?


- Advice? – Wear sunscreen. It's hard to line dance when you have a sunburn.


- Any particular funny/strange incidences that have happened?

There are always strange funny things happening. We usually have a laugh at some of questions people ask us. Questions like: "Does the ship produce its own electricity?" – "Do the crew sleep onboard?" – "What do we do with the ice sculptures after they melt?"

The funniest one lately was when I was on my last ship: The Golden Princess. It was the first day of the cruise and we were leaving Los Angeles heading for Hawaii.

I noticed a lady standing by the promenade bar looking very lost, so I went over to offer her my help. She told me she was frustrated because she couldn't get to her room.

I asked her what floor it was on and she told me deck 11. I pointed out the nearby elevator and suggested she take it too her room. She then said quite matter-of-factly that she had been in the elevator going up and down for 20 minutes.

I was taken aback and asked her why that was. She said she had been punching in her room number 5,7,5 onto the elevator panel and it didn't take her to her room it just kept going up and down.

I had to take a step back and then I told her it was elevator not a Star Trek Transporter. I did actually escort her to her room after that but, had to stifle a laugh.


- Princess cruise all over the world, tell me about some of the places you have visited.


- I have been all over North America and down into South America – including Brazil and Venezuela.

I have been to Africa and the Mediterranean – Spain, Portugal, and France – the British Isles, Norway, Denmark and even to Iceland and Greenland.

I have seen some amazing sights all over Turkey and Greece, Italy and Croatia. It has truly been a magnificent journey so far…


- How would you describe a typical Princess customer?

There are so many different types of people who enjoy a Princess Cruise. Our returning customer base is upwards of 7 and half million people. They keep coming back, I think, due to the amazing service we provide. The crew onboard Princess vessels are truly the best. I'm not just saying that because I am one.

We have a customer service program onboard Princess called: C.R.U.I.S.E. – it stands for Courtesy, Respect, Unfailing in Service Excellence. We practice this credo in everything we do. It is truly a wonderful program and I'm very happy to have it originate here with Princess.


- How have passenger requirements changed in your 5 years in cruising and how Princess has evolved to meet them?

There have been many changes over the years, obviously as times change our guests needs change as well. In my department we have implemented new production shows – hired great guest entertainers, invented new game shows and activities.

So many amazing changes have happened and are still happening as we listen to our passengers needs and take all of their suggestions to heart.


- How is Princess evolving to meet the future needs of its customers? Is there a shift towards therapies and treatments as The Sanctuary suggests or do more passengers prefer more physical activities, what is the split?


- Well, what I know is that when I talk to our returning guests and ask them why they've chosen Princess over all the other Cruise Lines available to them. The answer is usually the same: its the crew. The crew onboard have provided them with the most excellent service they could imagine. I think the newer additions, like the Sanctuary and Movies

Under the Stars as well as turning some of the ships atriums into The Piazza with live entertainment and cafe's is an amazing undertaking. I would think these additions will bring new guests to our ships maybe and when they meet people like us, they'll want to come back.


- How has 5 years in the job changed you?


- I think anybody who's travelled the world and experienced different cultures and countries has an appreciation for this marvellous planet we live on. I have had the opportunity to look past my own backyard and meet the most extraordinary people and see the most beautiful sights. 5 years in this job has been a blessing I can't explain.


- What are your ideas about your own future career?


- My career with this company hopefully leads me down the path to Cruise Director. I still have a lot to learn and am grateful for the opportunity to learn and grow in this business. One day, I'll be the boss.


- And finally, Movies Under The Stars – any chance of Princess launching a floating film festival featuring the best of old and new movies featuring cruises ships?


- Movies Under The Stars is the coolest thing in the world!!! – We even play Nintendo Wii on those things – you know how fun that is? – Awesome… as for the film festival – have you ever noticed that most movies involving Cruise Ships usually have them sinking in some capacity… I don't think that's on the menu. – But, thanks for asking.