Interview with Cunard Line's Queen Mary 2 Hotel Manager
Back to All Articles and Interviews
Register for Cruise Ship Jobs Now!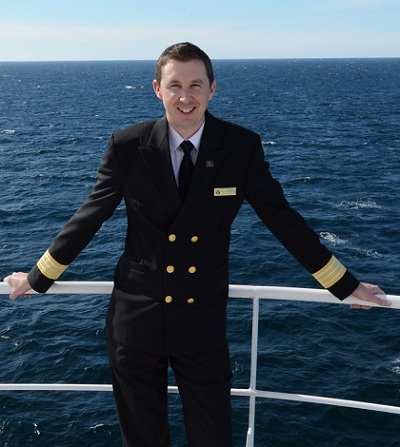 Hotel Manager David Shepherd Q&A:


Can you tell us about yourself – where are you from?

I was born in Leicester and grew up in a small farming village called Shenton near Market Bosworth, Warwickshire.

How did you start your career at sea?

You may wonder how did a farmer's son living in the middle of England as far from the sea as possible got to work on board ships! It all started after a school holiday to the Norfolk Broads – the fascination of boats and water! After completing my GCSEs, I undertook a BTEC National Diploma in Hospitality Management at North Warwickshire College followed by an HND in Hospitality Management franchised from Leeds University at Walsall College, West Midlands. I joined P&O Cruises's Oriana in 1995 at the age of 20 as a Junior Assistant Purser and began to travel the World. I was promoted through the ranks to Passenger Services Manager before taking a break from sea life between 2001 and 2003 to run a restaurant on the mainland. Six years after returning to P&O Cruises, in 2009, I was appointed Executive Purser and served on board Oriana, Aurora, Ventura and Azura.

How long have you been with Cunard?

I moved over to Cunard in August this year with Queen Mary 2 being my first Cunard ship which I have really enjoyed. I feel honoured and proud to be the Hotel Manager of such a magnificent Ocean Liner.

What does a typical day for a Hotel Manager involve?

The good thing on Queen Mary 2 is there is no rush hour to contend with – a couple of minutes walk and I'm in my office!

As Hotel Manager for Queen Mary 2 I am responsible for the entire Hotel team on board, and work closely with the Department Heads as well as the Deck and Engine Department to ensure that the guests on board have a unique and memorable experience.

Although I have just under 1,000 members of ship's company within the hotel chain of command, I am lucky to have five strong heads of department – Chief Purser, Food & Beverage Manager, Executive Housekeeper, Entertainment Director and Principal Medical Officer. Without them, the job would be a lot harder!

Let me outline a typical day in my life as a Hotel Manager on board.

First of all, I'll pass through areas such as Galleys, Provision Rooms, the Laundry, the Offices of the Department Heads, the Crew Areas, and the Crew and Staff/Officers Mess as it's important for me to understand what is really happening on board the ship. Talking and interacting with the ship's company is one of the most important aspects of my job – if we have happy crew, we have a happy ship. I try to make myself available to everyone while observing and responding to what's happening.

At the same time, this walk through includes me greeting and talking to guests, making sure they are enjoying themselves and listening to their thoughts and suggestions.

After the initial walk-through, and breakfast, it is time to do paperwork, dealing with requests, providing information and answering emails.

Almost every day I have meetings to attend and social responsibilities to take care of, as well as conducting crew cabin inspections and regular safety drills. Responding to guest feedback and resolving crew issues are also part of my regular day.

After a busy morning, it is time for another walk through, especially during meal times, to see the galley and restaurant staff in full swing.

Depending on what is going on aboard the ship and where we are sailing, after lunch I can have a short break to rest, enjoy some off-time or occasionally to go ashore – though I need a shoe-horn to leave the ship these days.

Late afternoon I have another walk through the ship, then there's more paperwork to be done and more emails to be answered.

An important part of my job is dining with the guests and I'll host a table for 8 guests at least one evening a week. After dinner, I normally have one last walk around the bars and entertainment venues before retiring for the evening. And then the alarm goes off and a new day begins!

What is the best thing about working at sea?

I met my wife Jade on board Oriana in 2004 so that has to be the best thing sea so far – we got married in April this year in Burford, Oxfordshire. The next best thing about it is waking up every morning in a different part of the world. There is no other job quite like it. Whether it be the amazing sunrises I have seen over iconic places like Table Mountain and Sydney Harbour, or sailing into New York, or transiting the Panama Canal, life does not get much better than this! Being surrounded by like-minded people and able to fulfil guests' dreams and deliver Cunard's tradition of excellence at sea is not only rewarding but an honour and a privileged position to be in.

How long is a typical contract?

A typical tour of duty can be around 3 months on board followed by 6-8 weeks shore leave, however working at sea you always have to remain flexible and be open to altering dates as circumstances can change overnight.

What do you enjoy doing when you're on leave?

Being a farmer's son, life is as busy at home as on board and I'm put to work on leave as well! I enjoy helping out with the family farm and love working outdoors and the rural life. My family also run an equine and small pet cremation business which I also become involved with on leave – a very satisfying job in offering a personalised and individual service to people at a difficult time.

Do you have any tips for people wishing to work in the hotel department of a cruise ship?

After more than 15 years at sea, I think the best advice I can give is to expect the unexpected and be prepared for anything and everything. You just never know what the next day is going to bring – that's part of the excitement and adrenaline rush you get from working at sea!