The Life of a Cunard Gentleman Dance Host
Back to All Articles and Interviews
Register for Cruise Ship Jobs Now!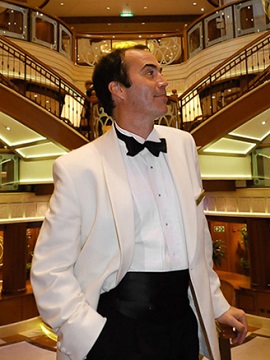 When you think about the people who make a cruise ship run, who comes to mind? The captain...maybe the head chef and cruise director, right? Well, with about 1,000 crew onboard Cunard's Queen Victoria, there's so many others in the shadows, all responsible for making your vacation an awesome one. And over the next two weeks, we'd like to introduce you to them.

On Monday we met Richard, a real Anchorman. Today, meet Jeff, Gentleman Dance Host on the Queen Victoria.

"I'm not a gigolo...a 'giga-dancer,'" Jeff asserts. "I'm a competitive ballroom dancer doing this for fun."

We're chatting while seated in the ship's Veuve Clicquot Champagne Bar and he's already donned his crisp white dinner jacket in preparation for the cruise's first formal night and the waltzing to come later. Jeff is a college professor on sabbatical, and a veteran of some 60 cruises, an impressive number even for the most cruise-happy blue haired ladies. Alas he isn't kicking back to gorge at the buffets or shop for duty-free liquor; he's here to dance as one member of Cunard's revolving corps of male dance partners for solo cruising women.

It's a great gig if you can get it, since gentleman dance hosts are a dying breed among ships these days. They aren't paid, but travel along for free so long as they do their part to foxtrot, rumba, tango and/or quickstep with ladies with that gleam in their eye. You know the one (as does Jeff); it's the gleam that shows interest and longing to dance, even if they're too shy or feeble to make the first move. And it's up to Jeff to keep the ladies from fighting over him, which totally does happen if he's not spreading himself evenly enough.

For Jeff, a perfect dance partner isn't necessarily the youngest, hottest girl in the room. "My favorite part is when a lady exclaims, 'I haven't danced in x number of years,' but you convince them to join you and they discover they can dance...you just move together." The payoff is immediate: "You feel them trust their body, and there's a reaction of bewilderment like, 'did that just really happen?'"

As for etiquette, Jeff and his fellow dance hosts are all about keeping tradition. You'll find them leading their dance partners to and from their seats in the Queen's Room, and never asking a woman to dance if she's already seated with a man. Sometimes this last issue takes care of itself when husbands approach Jeff and ask him to step in and dance with their wives. And he does, because being a dance host isn't about twirling with as many women in the room as possible; it's about "3-minute dates with a buffet of women," and briefly connecting with each through dance (and yes, that is all).


The Queen's Rooms, aka Jeff's office

What he loves most about the at-sea lifestyle: On land "ballroom dancing becomes work; it's physically and mentally demanding at the competitive level." Jeff comes onboard to enjoy it again, to meet others who enjoy it and for whom it's not all about the technical aspects. Of course the traveling around the world isn't all that bad, either.

Favorite port: No straight answer here from Jeff. Instead he reasserts that his life "is about dancing," and calls out the Queen Mary 2 as sort of favorite destination because the ballroom and dance floor on it are larger than on the Queen Victoria.

Favorite on-land activities: Occasionally you'll catch Jeff lending a hand and tagging along with the ship's official shore excursions. On this voyage, he opted instead to hang out in the hottub one day and then run up a mountain the next.