CARNIVAL CRUISE LINES SHIP'S DOCTOR PROFILE AND JOB REQUIREMENTS


Back to All Articles and Interviews




Register for Cruise Ship Jobs Now!



Full time contracts for physicians are 4 months. The most challenging time is when all the physicians and nurses come to Miami for a weeklong conference in August.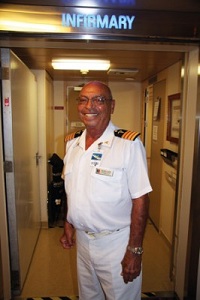 Carnival Cruise Lines have a group of physicians that they call Fly On Physicians that are able to fit short 1 to 2 week spots for emergencies.

An orientation is required prior to your first assignment where you are placed alongside a Senior Physician to learn the shipboard processes.

Families are allowed to sail with you but there are restrictions on the numbers in a cabin. It is important to emphasize that this position does have a lot of responsibility onboard the ship, not only with the 6 hour clinics per day but with being on call. Nurses are first responders.

There are Captains meetings, safety meetings, drills etc. so your time with your family might not be what you or your family expected.

The salaries vary and are set when an interview is held with the Carnival Cruise Line Fleet Medical Director.

Ship's Physician Position Profile

Must be a registered physician in the United States, United Kingdom, Canada, Australia, New Zealand, Ireland, South Africa, or European Union country or other country as approved by the CCL Fleet Medical Director.

Has completed the required number of years of medical training in a recognized school of medicine and has received formal post-graduate clinical training in internal medicine, family medicine, surgery or emergency medicine. The ship's physician is responsible for the basic and emergency medical treatment of the guests on board each ship and directly supervises the ship's nurses. The ship's physician also serves as the emergency and primary care physician for all crew on board.

Minimum Criteria:

1. Graduate of an accredited school of medicine, with current licensure in the United States, Britain, Canada, Australia, New Zealand, Ireland or other approved country.

2. Three years of formal post-graduate/post-registration clinical training, or board certification/or equivalent in Emergency Medicine, Family Practice or Internal Medicine.

3. Competence in emergency medicine with experience in orthopedic and minor surgical procedures.

4. Current certification as an ACLS Provider (Advanced Cardiac Life Support) or its equivalent, unless Board Certified in Emergency Medicine. ATLS (Trauma) Certificate and PALS (Pediatric) Certificate helpful, but not mandatory.