BEING AN ASSISTANT MAITRE D' ABOARD CUNARD'S QUEEN MARY 2


Back to All Articles and Interviews




Register for Cruise Ship Jobs Now!



04:45 New York Harbour. The alarm goes off, disembarkation/embarkation day is here. I only got to bed at 1:00am. One of the toughest days of the week has arrived.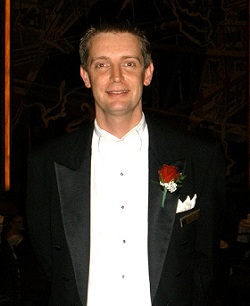 It was only six short days ago when we left Southampton on a west-bound trans-Atlantic. The seas were rough with a swell of about 35metres (80feet approx), it doesn't matter if you are on the largest ocean liner in the world, all ships will move and people will get sea sick. As I once found out as an elderly lady got sea sick and left the dining room. Her husband later returned ten minutes later to ask if I had seen her false teeth which must have popped out while she was vomiting. Unfortunately they were sitting on top of the garbage disposal smiling up at me. I gave them a quick wash and presented them back to him on a tray, needless to say that made his wife smile again.

At 1,250 feet long and over 14 decks above sea level, the Queen Mary 2 has 1,300 crew and the 2,800 passengers are just about to stir.

One of the highlights of the voyage is about to happen, going under the Verrazano bridge on the approach to New York City. With a clearance of about 12 feet under the bridge it doesn't leave a lot of room for error on the captain's part.

I get up and struggle to get out of bed, on the lower of two bunks, it's a far cry from being comfortable. The 4 hours sleep per night takes a bit of getting used to. Have a shower in the bathroom which is en-suite, turn around too quick and you are back in your bunk, it's far from being spacious. I then proceed to work to check-in the waiters who are due into work at 05:30am.

05.15 While I'm waiting for them I check the set up their tables to ensure that all cutlery is clean and straight on the table, all sugar bowls are clean and topped up, no crumbs are visible and all fittings are dust free.

The passengers for this restaurant, The Queens Grill, are paying up to US$5,000 per night. These are the most expensive suites and penthouses on the ship. In this restaurant, we cater for 205 passengers in one of the most exclusive fine dining restaurants at sea. With twenty two waiters, three wine stewards, two Assistant Maitre D's and a Maitre D' it is the second smallest restaurant on the ship. The largest being The Britannia restaurant which seats 1,230 passengers at one time. At dinner time it is double seating. It is on split levels with one galley which you access by an escalator from the upper level. A map is required when you start just to get around the galley. The Britannia Restaurant has 69 waiters, 69 assistant waiters, 17 wine stewards, 13 Assistant Maitre D's, 1 Senior Assistant Maitre D' and 1 Maitre D'. It's no wonder that it is commonly referred to as "The Zoo".

All the waiters start to arrive with about thirty seconds remaining, bleary eyed with the tiredness still in their eyes. I check them off the list in a military style operation checking their uniform ensuring that their uniform is spotless, shoes polished and that all the men are clean shaved. If not then they are sent back to their cabin to prepare themselves correctly for breakfast, they don't like to hear that as it takes them ten minutes to get to work due to the size of the ship.

The decks start to get busy with passengers as the ship approaches the Big Apple, as we pass the Statue of Liberty and the south of Manhattan the restaurant starts to get busy as all the passengers prepare for their final meal onboard. Once the doors open at 6am all of the guests arrive within the space of fifteen minutes. Needless to say, serving breakfast in a fine dining restaurant with two hundred people arriving at the same time is a bit of a nightmare. It's all hands on deck (forgive the pun) to get the food to the guests as soon as possible. First there's the fresh juice and water, then the Danish pastries and croissants, tea and coffee is the offered before the menus are presented. From there they have their fruit or yogurts and then their main course. Needless to say the Americans need their pancakes and waffles, the English must have their kipper or full English as they have a big day ahead of them in New York City.

09:00 Everyone is in good spirits as it is this morning that there is a reason to be happy, firstly, because it is this morning that we get our tips. All the hard work over the last five
days is paid off…hopefully! Secondly, you are in New York and you may be lucky enough to get an hour off, thirdly you will hopefully never see these people again.

Once breakfast is completed it is a matter of setting up for lunch. The next batch of passengers will arrive at about 1pm and they have different seating requests. Sometimes we do not have enough tables of two so we have had to cut the tables of four in half and so it would provide us with two tables of two. This can also be a bit tricky as all the table bases are bolted to the ground, we then have to unscrew the table tops and move them apart.

10:00 The waiters have now been checked out so they have about an hour or two before coming back for serving lunch. For the managers we sit down and have our breakfast and discuss what is happening and who is coming aboard in a couple of hours to replace the previous guests.

We then have about an hour to get a bit of sleep in-between shifts or else if we have the energy to go to ashore to get some real food. The staff food is far from being the best and passenger food is like the forbidden fruit. I'm looked after ok as all ships managers and officers eat well. Because I work in the restaurant, I eat off the menu served by a chosen waiter who has the serving of manager's meals as their side-job.

11:30 At lunch time the waiters have to be checked in again using the same military style check-in. When all are present we all sit down and have a staff muster (meeting) to discuss the newly arriving guests, where they are sitting and if there are any dietary requirements which must be adhered to, for if a guests sits down and the waiter already knows that they are a vegetarian, for example, then it gives a good first impression. This is emphasised to the waiters as the guests in the Queens Grill are paying top dollar and do not want to be disappointed at any time during their meals.

12:30 Every guest entering The Queens Grill are introduced to the managers before being escorted to their assigned table. This is where the fun can start, if it is not a table of two by the window then they are usually not happy. It is then my job to try to calm them down and explain to them that should one become available then we will move them to it immediately. Some guests are easier to please than others but the key is not to be rude or raise your voice to them. If they sit there for the first meal then they will usually be ok with their surroundings and not require a change. If they are still not happy then a change is necessary, then swapping and changing is required.

16:00 Lunch then rolls into the lifeboat drill which is held every time that the ship sets sail in an embarkation port. This is the ships equivalent of the display which takes place at the beginning of a flight except this one takes about forty five minutes. At this time we are bombarded with questions about "How do I get to…" "When we get to Southampton…" (and we haven't moved away from the pier in New York yet), "why are you not making them wear their life jackets?" The questions go on.

17:00 Immediately it's back to The Queens Grill for dinner. The guests arrive slowly as they want to watch the sail away from New York. All the introductions are made with all the guests in my section. A lot of them during the evening then start asking for chateaubriand and crepe suzette. All if which is possible but advance notice is usually required. We prepare and cook everything from Cesar salads to Steak Diane to the carving of whole roast Duck a l'Orange which is flamed in Grand Marnier, all at tableside in front of the guests.

As these guests are paying considerable amounts of money, you have to know what you are doing. So the next time a customer asks you for a well done steak tartare and a glass of chateaubriand then you will know better than saying "certainly Sir".

23:00 I sit down and enjoy my dinner which has been kept warm by the waiters for the last two hours before proceeding to the crew bar for a well earned beer or two.

0:30 Before falling asleep I must set my watch and alarm clock one hour forward as with the next four nights in order to be on UK time when we arrive.